HiNounou attends CES Asia 2018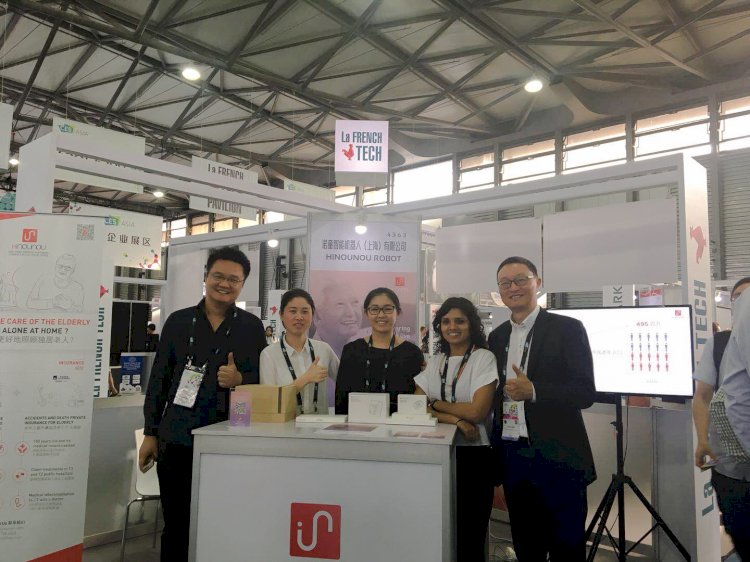 Friday, June 15, 2018 — On June 13-15th 2018, HiNounou Intelligent Robot Company exhibits its Insurtech Robot as a Service for the World's Seniors at CES Asia in Shanghai.  
Founder and CEO Charles Bark presented his vision for HiNounou Intelligent Robot Company on the Startup Stage. "Our dream to help our seniors to live Longer Healthier Happier at home, is enlightening more people. Contact us if you can help to make our dream come true. Many thanks to my wonderful team and to all our VIPs partners for supporting our vision," stated Bark.
HiNounou and its Insurtech Healthcare Data Platform is already preloaded onto the mobile handsets of more than 1.2M elderly in China and has a commitment with ZTE Angelcare to be loaded onto all phones sold in 2018 to the Senior community. Over the next 2 years, Bark forecasts massive growth for China's 210 Million Seniors who have not had access to private insurance or personalised healthcare. He returned to CES after opening HiNounou's Singapore subsidiary earlier this month, as it eyes expansion across South East Asia. 
"Vive la FrenchTech and our General Consul! The best is yet to come," he said. 
Launched in August 2015, the ambition of the French Tech Hub Shanghai is to offer visibility for actors of French innovation and new technologies. Recently, it has gotten closer to other hubs in China to further create synergy amongst various French Tech communities in Asia and thus reinforce sharing and interactions. 
The 4th edition of CES Asia took place from 13 to 15 June 2018, with the major themes of artificial intelligence, smart city, mobility and virtual and augmented reality.
Estimated at more than $ 110 billion in October 2017, China's consumer technology market is now the largest in the world, accounting for 35% of the global market and 75% of the Asian market. Already nearly twice as large as the US market ($ 69 billion), it still retains a significant growth potential: between 2018 and 2022, it should continue to earn about 10% per year.
This edition welcomed more than 40,000 visitors to the booths of 500 companies,  among them CEOs of the most influential High-Tech companies in the world, public opinion leaders, and Chinese government officials. It continues a respective increase of 15% and 10% per year since its creation. The ambition is to spark the development of a network which favors growth and increases the reputation of French startups internationally, as well as to facilitate the relationships between French startups and local partners.
HiNounou joined more than 10 of the most innovative French startups in the French Tech pavilion, a privileged space within the Startup Park.
A dedicated press area provided HiNounou with the opportunity to present their innovations to journalists. Bark and his team also attended key networking events with an interest to expand its ecosystem to reward its Seniors.