WORLD WINNER of the HEALTHY AGEING INNOVATION PRIZE by the UN, WHO and the Global Coalition on Aging (GCOA)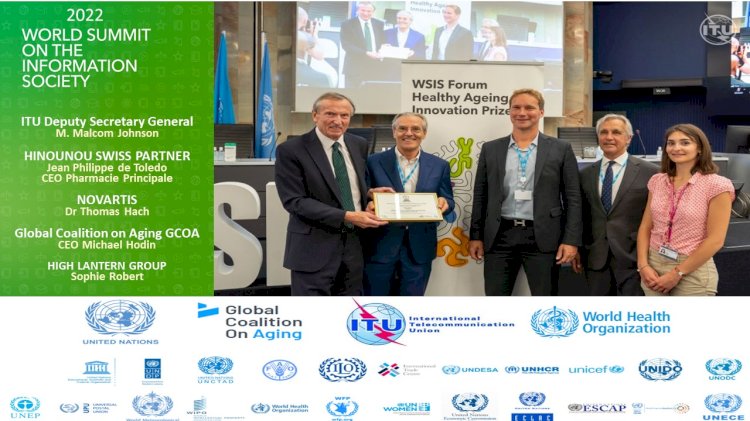 Humbled and honored that HiNounou is awarded as world winner of the HEALTHY AGEING INNOVATION PRIZE at the World Summit on the Information Society Forum 2022. 115 submissions came from 40 countries. judges served from un agencies as well as the private sector and academia such as Oxford University.
Public-private partnership between UN groups and private sector yields benefits for older persons. This prize is a partnership and collaboration with the Global Coalition on Aging, UNITED NATIONS, International Telecommunication Union, UN Department of Economic and Social Affairs, and the World Health Organization in support of the Decade of Healthy Ageing. It is a continuation of the recognition and support of the World Economic Forum in 2021.

This prize symbolizes our love and respect for our parents. It also symbolizes our endurance, resilience, and sweat in our roller coaster entrepreneurial journey especially during the very challenging period of covid. BIG THANKS for the continuous support of wonderful persons from our dream team, friends, partners, investors and customers who believed in us.

This prize is not an end but a booster to convert our dream into reality with you and all the other finalists who are also winner! a prize is useless if we don't use it. IF YOUR DREAM is to quickly accelerate affordable digital technologies to improve older persons' quality of life and to ease the heavy workload of their caregivers, PLEASE DON'T RECREATE THE WHEEL, SAVE YOUR MONEY AND TIME AND WELCOME TO CONTACT US.
THIS PRIZE IS NOT ONLY FOR US, HAPPY TO MAKE A BETTER WORLD WITH YOU! 
Further information:
Global Coalition On Ageing (GCOA)
https://globalcoalitiononaging.com/2022/05/31/hinounou-is-announced-as-winner-of-the-second-wsis-healthy-ageing-innovation-prize/
 UN ITU WHO "Healthy Ageing Innovation Prize" 2022