HiNounou launches China's first dedicated Seniors insurance as a Service with AXA and PingAn at RISE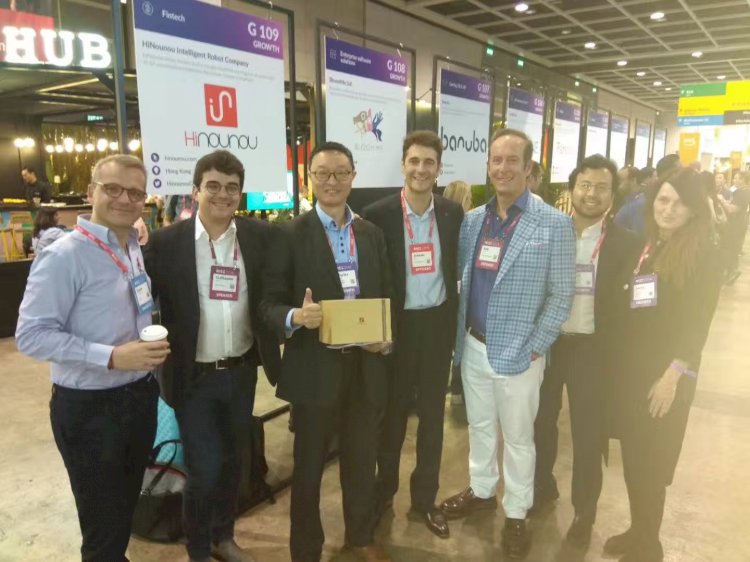 Thursday, July 5, 2018 — In China, approx. 200 million Seniors above 65 years of age do not have access to affordable private insurance, leading to a significant financial burden on the families involved. HiNounou Intelligent Robot (Shanghai) Company Ltd launches its wellness platform and ecosystem hosting the first affordable and dedicated "insurance as a service" for China's Seniors from AXA and PingAn.
HiNounou Intelligent Robot (Shanghai) Company Ltd. is a connected healthcare and intelligent data platform company on a mission to empower the world's Seniors to live longer, healthier and happier, at home. Powered by AI, IoT, Blockchain, and Genomics, HiNounou's platform and ecosystem now offer AXA and Ping An's first dedicated "insurance as a service" product for China's Seniors, regardless of their medical history. 
In China, approx. 200 million Seniors above 65 years of age do not have access to private insurance, leading to a significant financial burden on the families involved. HiNounou and its partners AXA and PingAn now make this possible.
Today the average life expectancy in China for Seniors is 75 years, however, the average healthy life expectancy is only 68 years. This leaves 7 years where the person will be unhealthy, resulting in a significant financial burden on the Senior and their families, with more than 50% of health expenses being paid out of pocket. 
A third of China's 1.4 billion population will be 60 or older by 2050, according to the UN, up from 10% at the start of this century. More than three decades of a government policy that limited parents to having only one child is now straining the society's traditional reliance on its own citizens to take care of their aging relatives resulting in one family member having to support up to 6 people.
80% of chronic diseases can be mitigated with healthy lifestyle choices. While chronic diseases account for 63% of global deaths, health systems are unadapted and preformatted to cure rather than to prevent illness. A lack of monitoring and preventive measures also results in a lack of timely and effective care. In addition, an acute shortage of caregivers and eldercare facilities for Seniors means a lonely and difficult experience of growing old at home.
Following a combined 12 years of R&D in 4 countries, with 4 Nobel Prize-winning University Hospitals, HiNounou has designed a comprehensive healthcare as a service solution for Seniors targeting chronic diseases. 
HiNounou's wellness platform and ecosystem provide Seniors with access to no-underwriting accident and death insurance as a service up to the age of 100 years from its partner, China's #1 insurer, PingAn.
A 24/7 teleconsultation hotline to medical professionals, is delivered in partnership with the world's leading insurer, AXA, through the AXA Partners' teams.
With more than 15 000 attendees at RISE, HiNounou's founder and CEO Charles Bark is excited to share HiNounou's dream.
"This is my dream to take care of my old mother who lives far away from me. Starting in China, Singapore, and HongKong, HiNounou delivers a comprehensive healthcare solution that empowers Seniors and gives families peace of mind. In partnership with AXA and PingAn, two of the world's leaders in insurance, we can ensure that Seniors, have access to affordable health care and adequate insurances."
"AXA is very proud to partner with HiNounou in China, HongKong and in Singapore. Together we innovate to make health insurance accessible and affordable to senior citizens. Technology and data have the power to improve prevention and optimize the efficiencies of our healthcare ecosystems." said Jerome Itty, the regional CEO of AXA Partners Asia.
HiNounou joins many of the world's most dynamic entrepreneurs, investors and startups in Hong Kong for RISE 2018 from July 9- July 12 where Charles Bark will formally announce the first dedicated no underwriting insurance for China's Seniors.
HiNounou was selected for the Growth Stage from thousands of startups around the world to exhibit at RISE. The Growth Stage is reserved for the top 10% of 700+ RISE Startups and will exhibit over 3 days. 15,000 attendees will travel from 100+ countries to hear from world-class leaders from Microsoft, ZhenFund, Tinder, Daimler at RISE 2018. 
RISE attracts the biggest names in technology and media, global business leaders, and VCs and investors from the world's biggest funds, who gather to hear from the world-class speakers on the 12 stages at the event. Topics in 2018 will include cryptocurrency, marketing, the future of finance, the future of transport. Now in its fourth year, RISE, has become Asia's most important technology conference growing from 1,000 attendees in 2015 to an expected 15,000 attendees this year. More than 600 of the hottest startups from around the world are now preparing to join more than top 500 international investors and 550 journalists in Hong Kong to take advantage of the event's legendary network opportunities. RISE 2017 includes inspiring speeches, curated workshops and roundtables, a startup showcase at the Hong Kong Convention and Exhibition Centre, the on-stage PITCH competition, and matchmaking sessions.
ABOUT HINOUNOU INTELLIGENT ROBOT COMPANY
HiNounou Intelligent Robot Company is a Connected Healthcare & Intelligent Data Platform company. We are committed to cutting-edge technology and are on a mission to empower the world's Seniors to live longer, healthier and happier, at home.
ABOUT AXA PARTNERS
AXA Partners is AXA's global entity dedicated to co-building and distributing with partners simple, customer-centric and innovative solutions that combine insurance, assistance and other value-added services.
As an integral part of the Group Innovation unit, AXA Partners also plays a key role in the deployment of disruptive solutions emerging from this innovation ecosystem.
The combination of both missions positions AXA Partners today as a key pillar of AXA's Payer-to-Partner strategy.
With the support of operating units established in 39 countries, our more than 9,000 employees are at the service of our customers anywhere, anytime.
In 2017, AXA Partners' revenues reached €3.2 billion.