HiNounou wins Digital Insurance Agenda Munich's first Special Award for Most Transformative Impact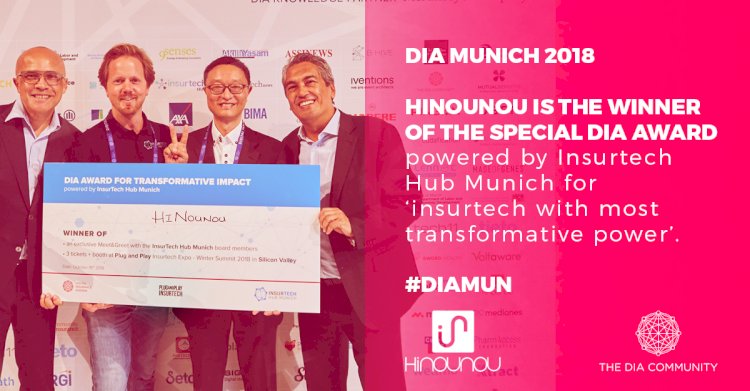 On October 18th, HiNounou was awarded the Top 1 Prize for Transformative Impact by DIA (Digital Insurance Agenda) Munich, the world's first and biggest insurtech conference.
Out of a few thousands, 50 startups coming from 28 countries have been selected to pitch at Digital Insurance Agenda Munich and the Top 1 prize for Transformative Impact goes to HiNounou Intelligent Robot Company. This precious award includes an exclusive Meet&Greet with InsurTech Hub Munich board members, 3 air tickets and booth at Plug and Play InsurTech Expo - Winter Summit 2018 at Silicon Valley.
HiNounou's visionary and viable solution for the elderly has earned the appreciation of the world's top InsurTech experts at DIA Munich. Leveraging technologies of AI, IoT, genomics, insurTech and Blockchain, HiNounou is empowering Seniors to live longer, healthier and happier at home as well as bringing peace of mind to their children.
Watch HiNounou's pitch video at https://www.youtube.com/watch?v=wzGXs5ElDBw
About DIA
DIA is the first global community and two-day conference connecting change agents at insurance companies to fintech leaders. The event features solutions that drive cost efficiency, and boost customer engagement and revenue growth. With the first edition launched in 2016 in Barcelona, and DIA 2017 in Amsterdam, DIA Munich 2018 was held on 17 and 18 October.
https://www.digitalinsuranceagenda.com/278/hinounou-insurtech-robots-as-a-service-for-the-worlds-seniors/
http://www.digitalinsuranceagenda.com/297/diamond-award-winners---dia-munich-2018/