Charles Bark, founder&CEO of HiNounou, was interviewed by the Business channel of the French media BFM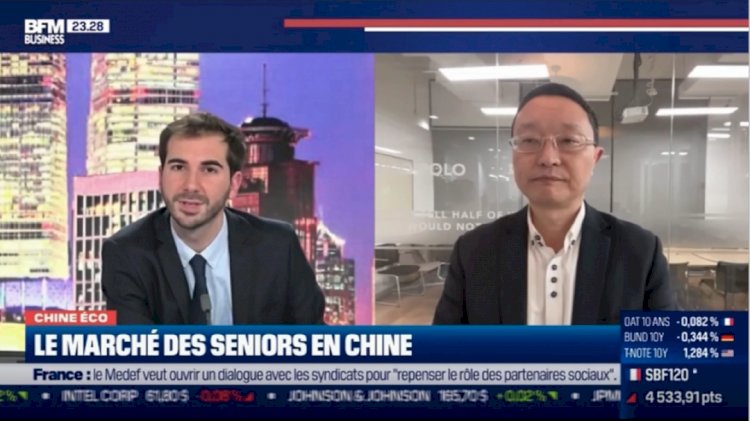 Charles Bark, founder&CEO of HiNounou, was interviewed by the biggest French Business TV channel BFM TV. During the interview, Charles introduced HiNounou's mission, products and services offered, and shared his views on the Chinese senior market.
 Host:  Hello Charles Bark, you are the founder of HiNounou, can you tell us about the product you developed and the purpose of the product?
 Charles Bark: We are develop connected device that collects health data at home in order to enable the elderly to live longer and healthier lives.
 Host: What kind of information do you collect in order to achieve this goal? What kind of services do you provide?
 Charles Bark:  It took us 12 years of research and development in four countries - the U.S., Canada, China and France - to develop this complete solution that focuses on prevention rather than treatment, the HiNounou Smart Health Kit, which includes different products and services. The first service is the DNA testing kit, which can analyze the top 12 chronic diseases risks predisposition. Once the risk of incidence is understood, we can use a whole set of Internet home medical connected devices, such as blood pressure meter, blood oxygen meter, ECG, etc. to test the collect key biomarkers. Finally, we partner with PingAn Insurance and AXA Insurance to offer a 24/7 medical consultation service that allows seniors to call and connect directly with a doctor if they are feeling unwell and their family members are not around. It is through this comprehensive health package that we are helping seniors to improve their quality of life at home.
Host:  The digital hospital in China is not that developed, what is the secret of your success in the Chinese market?
 Charles Bark:  Actually, it all comes from my personal experience. My mother, who used to be a doctor in France, is now retired and living alone in Paris.  Eight years ago, I called her and ask her "How are you doing", and she replied that everything was fine. Until one day she fell down at home and was taken to the hospital. I only found out about it from my brother 2 weeks later. This incident shocked me and made me think: How can I take care of my mother while I am away from her?" The hospital was also oriented to treat the illness, but by then, it might be too late. So the idea is to collect all the health data and start with prevention.

Host:  China's elderly market has huge potential and the silver hair economy is booming. Is the competition in this industry also very fierce? Why does your service stand out?
 Charles Bark:  The senior market in China is huge. There are 250 million seniors in China today, and by 2050 there will be 500 million. But at the same time, there are not enough family caregivers. In order to stand out from the various services and products, the first step is to innovate digitally, but of course this innovation will not replace family caregivers and doctors, but help them improve their prevention and monitoring capabilities. So the most important thing is to innovate. And we at HiNounou  rely on our algorithms to analyze the data collected and visualize the health risks faced by the elderly.
 Host: Last question, you currently have a presence in China, do you also have a presence in France, in Europe?
 Charles Bark: Of course, after a 12-year R&D journey, it took us 2 years to develop markets in 12 countries, 6 in Asia, 5 in Europe and the Middle East, and the US. Last year, we achieved our first $1 million in sales during COVID. In the midst of the epidemic, people were quarantined at home and many vulnerable people were reluctant to go to the hospital to avoid contracting Neosporin, which helped HiNounou to grow and our partners helped us to go abroad and further develop the French and European markets.
Video address: https://www.dailymotion.com/video/x7zeic1